Saalio® treatment tubs (1 pair)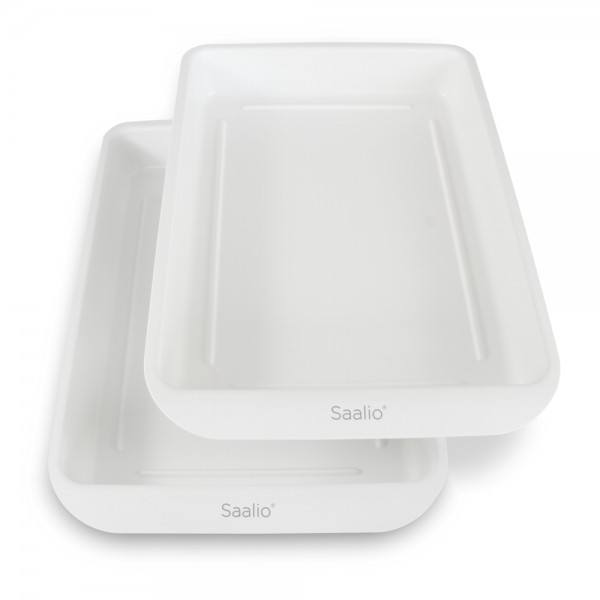 Content:
2 pc. (€19.00 * / 1 pc.)
Prices incl. VAT plus shipping costs
Ready to ship today,
Delivery time appr. 1-3 workdays
Saalio® replacement parts: 1 pair of Saalio® treatment tubs comfortable Interior...
more
Saalio® replacement parts: 1 pair of Saalio® treatment tubs
comfortable
Interior dimensions: 33 x 25 x 5 cm
Scope of delivery:
2 x Saalio® treatment tubs
| | |
| --- | --- |
| Article type: | Spare part / consumable |
| Typical areas of application/use: | Hands, feet |
| Warranty: | 30 days money-back-guarantee |
| Warranty: | 1 year |
Read, write and discuss reviews...
more
Customer evaluation for "Saalio® treatment tubs (1 pair)"
Write an evaluation
Evaluations will be activated after verification.
Way too big, way too much water needed.
Ergonomic shape which is nice.

They have small raised parts to hold the silicone electrodes in place but that end ultimately being completely useless but it's not that important anyway.

The main problem is that they are way too big. They are meant to allow you to treat both hand and feet at the same time. But for most people including myself, the electric current settings are different for the treatment of hands or feet, so we end up never treating both simultaneously.

The end result is that you end up using way more water than with the classic cheap case trays. So in the end I never use them even if they are more comfortable. They are just too big.

I think for these kind of trays Dermadry makes the best ones, but they are really expensive, so I think you're better off just buying small cheap containers.
Shop owners answer
Thank you for your detailed review. We really appreciate these!
I agree, that the treatment tubs may be too big in some cases, when it comes to a separated therapy of hands and feet. But we have buyers of tubs of different brands who exactly bring in the size as a criteria, when selecting the Saalio® tubs. So like many things it is a matter of the individual application-case that decides if the tubs fit or not.
But there need be no significant waste of water, if you choose the waterline so, that it is just wetting the palm of the hand or sole of the foot.
In that case the foam inserts aren't floating either.
However, as you have correctly pointed out: there are cases, where the Saalio® comfort tubs are biggerthan they need to be.
And therefore I also have build myself a minimalized set for daily usage, which consist small cheap containers and a pair of cheap rinsing sponge cloths ;)
Information about reviews: Registered customers and guests are allowed to write reviews. Guests can submit their reviews anonymously, as there is no personal check. All reviews are manually checked by us and manually activated if they refer to the product and comply with netiquette. Reviews from registered customers that are generated on the basis of an item order are marked "Verified purchase".