Money back guarantee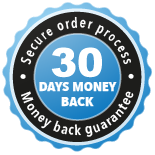 You trust us, we trust you!
That's why we provide our "30 days money-back-guarantee" 1
As a dealer for products against perspiration and body odor, we are sure to offer only products that also deliver what they promise. Nevertheless, if you should ever be dissatisfied, please simply request your "30-day money-back guarantee" described by the steps below.
Important: Our guarantee can
not

be used to the following sealed hygiene materials if their seal has been broken...
Important information for rescission:
Please contact us before you return the goods! For this purpose we are at your disposal under support@schwitzen.com or phone +49-2845-2967440 (Mon-Fri, 09 am -5 pm). We will then create a support ticket especially for your case to record the time of the claim of your money-back guarantee and to try to clarify your problems subsequently.
If you continue to be dissatisfied, please send us the product that you are dissatisfied of together with a copy of the invoice address. Please stamp your return sufficient 1
Please inform us about your bank account or PayPal address, so we can refund the purchase amount 1
Costs for hygiene materials, which are excluded from the money-back guarantee, will be retained within our refund

Our address for your return
DIE FORMEL e.K., Hochend 88, D-47509 Rheurdt
1 The 30-day money-back guarantee is an independent promise of DIE FORMEL e.K. as operator of the webshop www.schwitzen.com and is only valid for their customers and from the date of receipt of the ordered article. The guarantee can only be claimed after prior contact with our support (see step 1). The legal right of withdrawal continues to exist independently of this. The returned goods will be refunded within 30 days. Shipping costs are excluded from a refund. Unfortunately, we cannot accept shipments that are returned to us with insufficient or no postage as part of the "30-day money-back guarantee". Such shipments will be returned and the customer will be charged for any transport charges incurred. We would be pleased to advise you in the course of our clarification attempt (step 1) also on the possibilities of the cheapest possible return shipment (text version as of: 2022-01-01)